Haven of Love (a faith-based 501(c)(3) organization) in 1999 for the purpose of assisting females caught in the traps of prostitution, drug abuse and domestic violence as well as women in the prison system returning to society. There is a critical need in the community to respond to the plight of these women.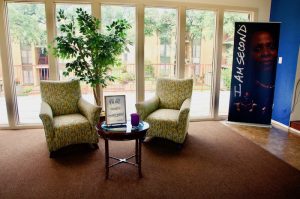 Women that have lived such a life style face an uphill battle starting a new life. It is especially difficult for them. Most come from families where abuse of some kind was common and they know no other way to live. The Haven Of Love started within a home with a support group that mentored women from this life style, as well as taught co-dependency classes with these ladies. Bible study, with the word of God as the foundation, was an integral part of their support. Realizing even more women could be reached by expanding this volunteer work to form a non-profit agency, The Haven Of Love received it's 501(c)(3) status in 2000 and was permitted to go into treatment centers as well as prisons. Working first in Dallas, Texas, and later in the Gatesville Women's Prison Unit outside of Waco, Texas, bible studies are held and co-dependency classes are taught. The Haven of Love has also been allowed into, Lou Sterritt County jail, in Dallas, Texas.
By 2005, 40 women had been involved in the bible studies, co-dependency classes and support groups and successfully returned to their families to begin their new lives. These women began to give back to their community by participating in support groups and sharing their experience, strength and hope with other women that are now in the process of recovering and starting a new life.
Countless women have received benefits from the programs and events facilitated by the Haven, the community has been positively impacted through this work., The Haven of Love partnered with the Prostitution Diversion Initiative Project in Dallas, Texas in 2007. This project helps females caught in the trap of prostitution. This outreach is supported by the Dallas Police Department, Dallas County Sheriff Department and other community base organizations in the Dallas area. This community effort is conducted as a Dallas Police Department sweep where officers go into 'red light' districts of Dallas and pick up ladies that work that area as prostitutes. These ladies are brought to a central location and given the choice of going to jail or going into treatment, or possibly other options in an effort to create another way of life through outreach. In 2016 the Haven of Love and it's volunteers came in contact with a total of 54 women. Of those 54 women, 10 of those women went into treatment and from treatment 7 women that are still committed to the process of recovery. Through this project The Haven Of Love outreach works closely with these women via case management, mentoring, and facilitating regular Co-Dependency classes and Support Groups.